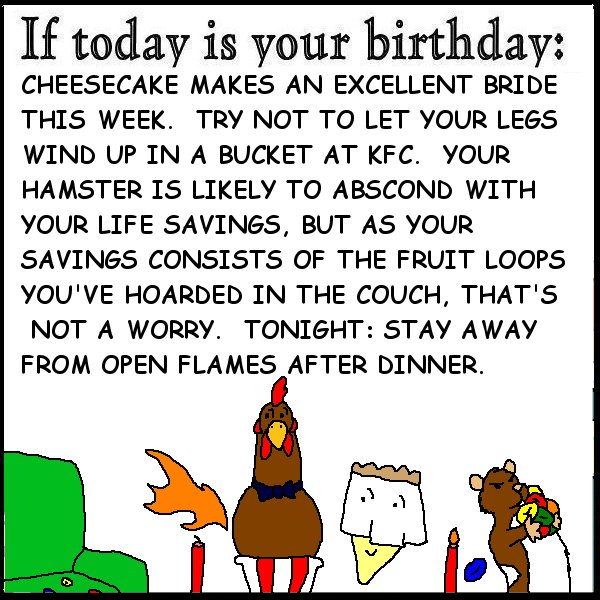 More Horrorscapes | Previous Horrorscape | Next Horrorscape | Latest Month

Horrorscapes are for entertainment purposes only. Seriously. I mean it. What, you think this stuff is actually gonna happen? If you do, please remain calm and do what the nice men in the white coats tell you.

Horrorscapes is brought to you by the following:

HORRORSCAPES
AIRES / HAWK:

The new Batman movie will suck. Watch something else instead. Maybe a movie about an obnoxious talking chihuahua. It's bound to be better.

TAURUS / BEAVER:

Just ignore that service engine light. It'll go away eventually. P.S. If I'm wrong, you're probably a Gemini.

GEMINI / DEER:

Buy a truck. Sell a kidney if you can't afford it. Oh. Wait. That's right. Your license will be revoked in two weeks. Never mind.

CANCER / FLICKER:

Cigarettes will be the death of you. Chew snaw instead. Oh wait. That rots your gums. Forget I said anything. Your birth sign is cancer. What did you expect to die from?

LEO / STURGEON:

Setting all the lions at the zoo free seems like a really good idea at the time, but there will be unexpected consequences. Prepare for the worst by wearing sausages around your neck and using barbecue sauce as an aftershave.

VIRGO / BEAR:

Prepare to spend long romantic nights with a tall, handsome stranger...on DVD or VHS. Be sure to include enough refreshments for two so that you can properly drown your loneliness.

LIBRA / RAVEN:

A contagious disease awaits you in Fiji. There will be nausea and vomitting, internal bleeding, intestines turning into raspberry jam and sprouting of antlers from really uncomfortable places. Don't worry, your insurance covers it.

SCORPIO / SNAKE:

Your rugged durability will help you climb mountains and win numerous J.D. Power awards. Just try to avoid Geminiis.

SAGITARIUS / ELK:

When you are abducted by space pirates from Flubilon-7, keep your head. Literally. Just say the simple phrase "Grlk jsdgbcx wrthqpl, fghsdtrk vbc mmnpld zcxvdj." Once they see you have a horrible disaese that affects your ability to speak, they will gladly release you. ...In deep space.

CAPRICORN / GOOSE:

The authorities are getting close. Make sure you start every conversation with "No, I have absolutely no idea where the body is buried."

AQUARIUS / OTTER:

The men's room is out of toilet paper. I won't tell you which one. Ha ha.

PISCES / COUGAR:

Slavery might make a comeback. Consider buying a plantation. Consider also investing heavily in mind control chips to prevent an uprising. Consider security guards for when the chips fail. Consider pleading for your life when the security guards join the uprising. Consider making out your will now.