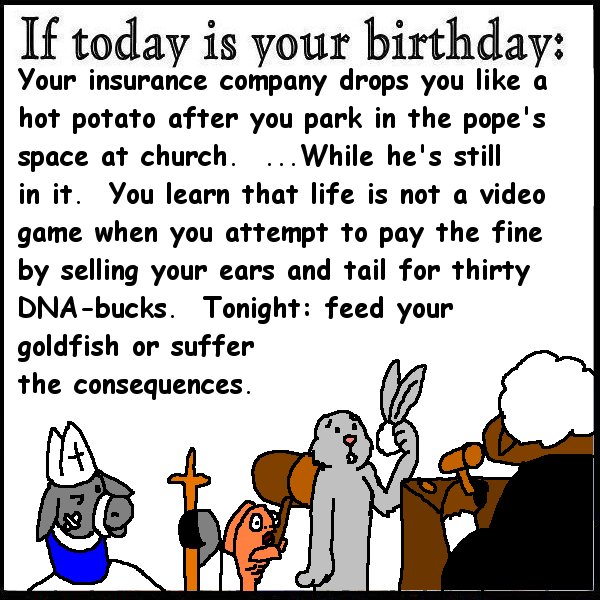 More Horrorscapes | Previous Horrorscape | Next Horrorscape | Latest Month

Horrorscapes are for entertainment purposes only. Seriously. I mean it. What, you think this stuff is actually gonna happen? If you do, please remain calm and do what the nice men in the white coats tell you.

Horrorscapes is brought to you by the following:

HORRORSCAPES
AIRES / HAWK:

Some new piece of technology you own will randomly stop working. And technical support is currently suffering from "above-normal call volumes". You might as well buy new. Fortunately, I have a copy for sale, only $999.95

TAURUS / BEAVER:

Gas is going up in price, time to stock up now. Oh, wait, it's going back down, sell your reserves. Oh, wait, it's going back up....buy low, sell high!

GEMINI / DEER:

Great savings are in your future, "coupon-clipper" will be your middle name; you'll waste hours cutting the coupons, but at least you're save a few cents! Cheapskate

CANCER / FLICKER:

Now is the time to stock up on emergency supplies, take a few self-defence courses, and prepare for the onslaught of zombies.

LEO / STURGEON:

All your friends have a new iPod/iPhone, you need to go get one. Now. (otherwise, see Virgo)

VIRGO / BEAR:

You're wasting too much time with your iPod/iPhone, retire it or give it to a friend (see Leo).

LIBRA / RAVEN:

You'll soon fall in love, love that completes you; and the shirt is on sale at your local discount sale, you need to go grab it. Take a Gemini with you. They've got coupons.

SCORPIO / SNAKE:

Your innate sense of direction will soon be called upon. In order to prepare, be sure to study geography and trail guides. you can find some in the library to your left. No, other left. North side. Over there. No, other way.

SAGITARIUS / ELK:

There are people out to get you. You need to pack, hit the high road, and get a head start. In case they catch you, now would be a good time to settle on your story, and perhaps pack a toothbrush.

CAPRICORN / GOOSE:

Relatives might stop by, you should begin hiding the good silverware. Hide anything sharp as well.

AQUARIUS / OTTER:

You're going to catch every red light today. Sorry. Pack some crosswords. ...and a lunch. Dinner too. Maybe some blankets and a pillow. Pack a change of clothing, too. And a breakfast.

PISCES / COUGAR:

You're going to be tested. But, I won't tell you on what. Study everything just to make sure your ready.