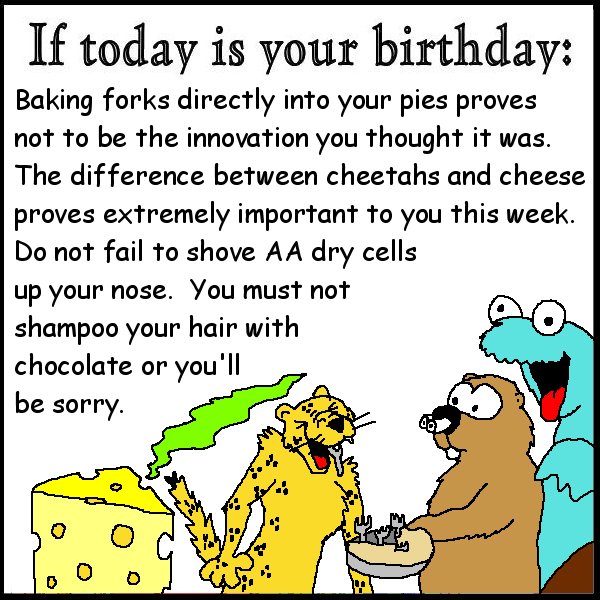 More Horrorscapes | Previous Horrorscape | Next Horrorscape | Latest Month

Horrorscapes are for entertainment purposes only. Seriously. I mean it. What, you think this stuff is actually gonna happen? If you do, please remain calm and do what the nice men in the white coats tell you.

Horrorscapes is brought to you by the following:

HORRORSCAPES
AIRES / HAWK:

This is the dawning of the age of asparagus. Mystic carrot revelation, broccoli and cauliflower. You know, all that hip, new age vegetarian stuff.

TAURUS / BEAVER:

Your attempt to introduce chinese culture to the farm by replacing all the shovels with pairs of pool cues fails miserably, resulting in many unhappy farm animals and a large, uncomposted pile of raw sewage.

GEMINI / DEER:

A culinary disaster teaches you that a crowded country is no excuse for recycling food. You also learn that running your truck on cooking oil doesn't mean you can make french fries as you drive.

CANCER / FLICKER:

Vanilla does not equal plain. Remember that during your time at the easily offended ice-cream maker's convention. This will be especially important during the kitchen power tool demonstration.

LEO / STURGEON:

Raisins make you happy. They make me happy too. But nazarites can't eat raisins. Raisins won't make you happy if you're a nazarite. But nazarites aren't supposed to read horroscopes either.

VIRGO / BEAR:

Putting X onto something does not always make it cool. This is why your venture selling extreme spinach will fail. Tonight: while watching that game show, yell your answers really loud. The contestants can't quite hear you.

LIBRA / RAVEN:

You'll require emergency surgery after testing for yourself whether your magic 8-ball is edible. As for your chances of survival- reply hazy. Try again tomorrow.

SCORPIO / SNAKE:

Your willingness to try new things leads you to several exciting discoveries. Among them: Water is not a substitute for pants, soup tends not to converse fluently in English and gravity still works at 25,000 feet.

SAGITARIUS / ELK:

Quickly, take your left foot and stick the nail of your big toe between your upper incisors. Why? I just wanted to see if you'd do it.

CAPRICORN / GOOSE:

Two trains leave Anaheim traveling at six pounds per minute. One slows to sixty feet per mile halfway. At what time do they meet on the moon?

AQUARIUS / OTTER:

If you do not forward this horrorscope to exactly fifteen and a half people, you will be magically transformed into a purple anteater and forced to wait indefinitely for a bus that never comes.

PISCES / COUGAR:

The position of Uranus was going to bring you incredibly good luck and fabulous wealth, but Uranus has gotten sick to death of those stupid puns and is now hiding in the oort cloud crying its methane storms out.