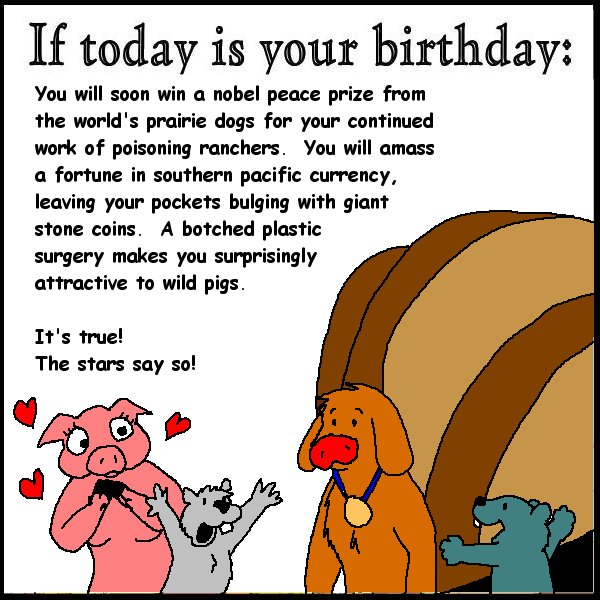 More Horrorscapes | Previous Horrorscape | Next Horrorscape | Latest Month

Horrorscapes are for entertainment purposes only. Seriously. I mean it. What, you think this stuff is actually gonna happen? If you do, please remain calm and do what the nice men in the white coats tell you.

Horrorscapes is brought to you by the following:

HORRORSCAPES
AIRES / HAWK:

You finally get that shiny new BMX bike you've been wanting! The downside is you didn't actually want it. You only think you wanted it because your brain has been reprogrammed by Derren Brown.

TAURUS / BEAVER:

You finally discover that elusive magical spell that will make you normal again, but it is sadly temporary. They're ALWAYS temporary! Dagnabit!

GEMINI / DEER:

You will soon pass out in the arms of a blue-skinned superhero when he challenges you to a tongue twister test. Tonight: Hang some Japanese lanterns to brighten up your subteranean lair.

CANCER / FLICKER:

This coming Tuesday, you find yourself thrown out of the UN after attempting to impress the ambassador of French Guiana with the phrase "Qui a coupé le fromage?" Oh... and that thing on your foot is terminal.

LEO / STURGEON:

Your hamster will soon come to hate you once you attempt to change her hair color using spray paint. Try not to think about that painful itch in that embarassing place as you're meeting those foreign dignitaries tomorrow morning.

VIRGO / BEAR:

Four days from now, A mugging will make you realize that your GI Joe action figures have no protective value. Also, chocolate donuts do not make good accessories in Southern California.

LIBRA / RAVEN:

The josition of Pupiter indicates that you have becently regan to duffer from syslexia. It hust so jappens that there's a cecent dure available if you dend me a sollar. Ko nidding!

SCORPIO / SNAKE:

I bet you want to know what your horroscope is. It's always about you, isn't it? What about me? What about MY needs? You are such a selfish jerk.

SAGITARIUS / ELK:

Beans prove to be excellent for your health, but only if you sit near the window. Eating Lucky Charms does not guarantee you success in your upcoming job interview. Tonight: sew the ear back on.

CAPRICORN / GOOSE:

A freak accident with a cell phone and some non-dairy powdered creamer transforms your body into pure energy, allowing it to do amazing things. At least... it would if you were still in it. Tonight: try to get used to being dead.

AQUARIUS / OTTER:

Thanks to the convergence of planets Drool and Yugopatamia, you will finally be emerging from the block of ice you've been frozen in for a thousand years. Huzzah!

PISCES / COUGAR:

On Wednesday, you discover that the decency laws in West Xylophonia do not make allowance for supernumerary mammaries. This incident causes you endless legal problems, but also enormous popularity.