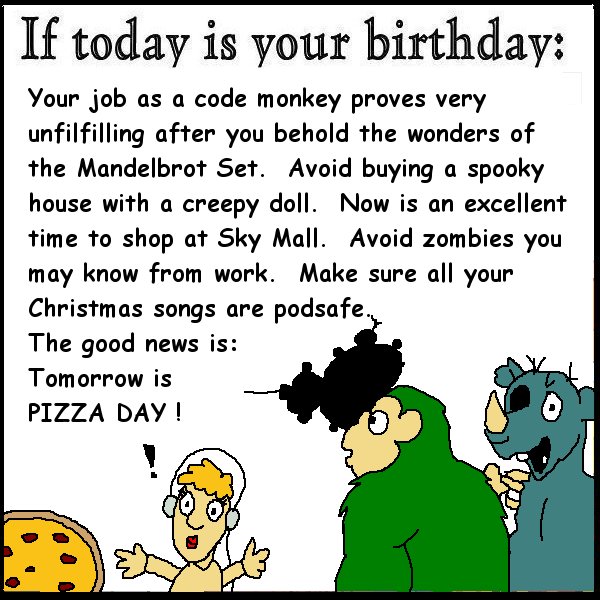 More Horrorscapes | Previous Horrorscape | Next Horrorscape | Latest Month

Horrorscapes are for entertainment purposes only. Seriously. I mean it. What, you think this stuff is actually gonna happen? If you do, please remain calm and do what the nice men in the white coats tell you.

Horrorscapes is brought to you by the following:

HORRORSCAPES
AIRES / HAWK:

Your extreme claustrophobia will soon cause trouble during your European vacation when you visit Lichtenstein and panic because the country is too small. Disappointment sets in when you discover that Schneese is not a real food.

TAURUS / BEAVER:

Your luck takes a turn for the worse this week when someone offers you a fruitcake. Try as you might, there is absolutely no way to get rid of it.

GEMINI / DEER:

The position of Telezart causes medical problems for you, including diabetes, high blood pressure and gall bladder failure. That means no salt, sugar, fat, or in fact any actual food in your diet.

CANCER / FLICKER:

You need new socks. Seriously. Hunh? No, the stars didn't tell me that. My nose did. For pete's sake, change them!

LEO / STURGEON:

Disaster strikes tomorrow as an out-of-control snowcat crashes headlong into the windmill you just repaired. Tonight: look into flying lessons.

VIRGO / BEAR:

As Jupiter comes into alignment with Eternia, you realize that hiding under a church pew and stealing people's socks is not a very fulfilling hobby.

LIBRA / RAVEN:

You are beginning to realize that visiting friends, going out for dinner, attending sporting events, concerts and shows is hurting your social life. Plan to spend some time with your imaginary friends.

SCORPIO / SNAKE:

That new vehicle you just acquired as the result of a government seizure may not be the investment you thought it was, as the previous owner is going to come looking for it. Avoid anything with the name "Black Pearl".

SAGITARIUS / ELK:

A few well-placed laugh tracks lead you to understand that you're not living in the real world, but a sitcom. Trying to hide that mistake you made gets you in a lot of trouble, but makes for great ratings.

CAPRICORN / GOOSE:

You find out through trial and error this week that soap, drano and gasoline are not edible. Tonight: Give the paramedics a big tip.

AQUARIUS / OTTER:

According to the discovery of two new plutonian moons, there are three things you need to know. 1. The computer is trying to kill you. 2. There is nothing wrong with your legs. 3. The cake is a lie. Tonight: sing a duet with Jonathan Coulton.

PISCES / COUGAR:

The position of the broken moon of Sesharim (well... positionS) indicate that you should take the blue pill. This will seriously simplify your life and keep the robot overlords out of your hair. ...Pathetic flesh creature.