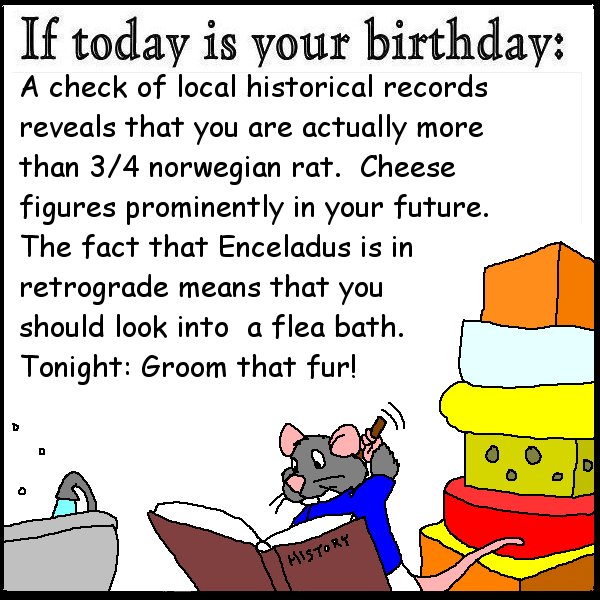 More Horrorscapes | Previous Horrorscape | Next Horrorscape | Latest Month

Horrorscapes are for entertainment purposes only. Seriously. I mean it. What, you think this stuff is actually gonna happen? If you do, please remain calm and do what the nice men in the white coats tell you.

Horrorscapes is brought to you by the following:

HORRORSCAPES
AIRES / HAWK:

The position of Saturn indicates that sweet potatoes may indeed be an acceptable substitute for eggplants. This would have saved your career when you serve your boss Rattatoullie on Friday, except that you decided to use real rats. You murderer!

TAURUS / BEAVER:

Your wife's boston fern is dead. You can stop watering it. She's not going to buy the bit about zombie houseplants. Tonight is an excellent night to leave cheese on the kitchen counter uncovered.

GEMINI / DEER:

Cookies play an important role in determining the path of your new career. Leave at least twelve different kind on the table overnight. Don't forget the thin mints.

CANCER / FLICKER:

Your favorite DJ has been taken off the air. The position of Umbriel indicates that you should definitely phone OtterTunes and demand the return of Zeppo the rat. Tonight: Fix a salad but don't eat it.

LEO / STURGEON:

Be kind to your local dairy cow. Invest in the cheese industry. If you are a cow, the position of IO says that you need to eat lots of fragrant herbs, so as to make very tasty cheese.

VIRGO / BEAR:

Your cat is plotting against you. He intends to shave you bald while you sleep. Better throw him out right away. Shoot him with a super-soaker while you're at it. Call him mean names, too.

LIBRA / RAVEN:

The conjunction of Tethys with Polaris next week will cause all mousetraps to become highly toxic. Better throw yours away right now and avoid the rush. Tonight: Don't eat all of the popcorn.

SCORPIO / SNAKE:

Today is your day to make a difference! The moons of Venus declare that you'll be highly successful in your campaign to overhaul the English language with phrases like "I smell a cat." and "You dirty cat!" and "I've been catted out!"

SAGITARIUS / ELK:

Pluto is still upset about losing it's planet status. show some compassion by being kind to those who are small. Adopt a small pet and spoil him rotten.

CAPRICORN / GOOSE:

This coming Tuesday, you finally discover who's been gnawing holes in your cereal boxes. It was the parakeet. Honest! Don't believe me? Just ask the Martian moon of Deimos. Seriously! Go ask him!

AQUARIUS / OTTER:

This afternoon finds you in a quandry when you find that the horroscope column you need to do has already been done by your pet rat. Your best bet is to correct her spelling errors and then reward her with large chunks of chocolate.

PISCES / COUGAR:

Squeak squee Babelfish squeak squeaker not always squeak correctly squeaken. Squeak squeakity squeaker bad translation. Squeal squeak grandmother cheese.