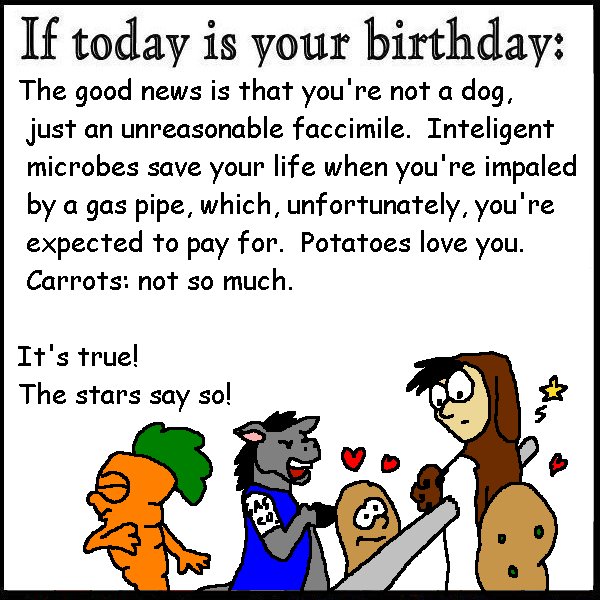 More Horrorscapes | Previous Horrorscape | Next Horrorscape | Latest Month

Horrorscapes are for entertainment purposes only. Seriously. I mean it. What, you think this stuff is actually gonna happen? If you do, please remain calm and do what the nice men in the white coats tell you.

Horrorscapes is brought to you by the following:

HORRORSCAPES
AIRES / HAWK:

There are things that people were never meant to know. Your horroscope is one of them. So instead, here is the sound of a happy kitten. Meow!

TAURUS / BEAVER:

Now is not a good time to attempt a moon-shot in an open-air spacecraft. Marshmallows may help you through a difficult time. Tonight: Set the clocks back 45 minutes to compensate for time wasted reading webcomics.

GEMINI / DEER:

Your slasher movie marathon will be suddenly interrupted by an angry knife-wielding dwarf in an untied straightjacket. Be nice to him. Tonight: Look itno possilbe crues for taht annyoing dislxeia porblem.

CANCER / FLICKER:

A strange visit from a government employee will turn up records revealing that your parents were not eaten by lions, but are in fact sitting in tupperware containers in the back of their fridge.

LEO / STURGEON:

Two words: Airplane cathedral. No, I don't know what it means. I was hoping you would.

VIRGO / BEAR:

"Splunge" is a word that will figure prominently in the next month of your life. Your career as a NASA engineer is in jeopardy when the martians call the police about the junk you left all over their lawn.

LIBRA / RAVEN:

The position of Cousvain indicates that on Tuesday morning, your girlfriend will ask you to hold her purse one to many times, causing irreversable damage to your masculinity.

SCORPIO / SNAKE:

Jupiter is very upset that you don't appreciate its singing. Consequently, it has arranged for several large asteroids to fall on your house. Sucks to be you, Dude.

SAGITARIUS / ELK:

Your wedding is nearly ruined when four elfin hussies crash in, raising vehement objections to a marriage between a zombie and a... whatever it is you are. Venus recommends kicking their butts.

CAPRICORN / GOOSE:

According to the retrograde movement of Tatooine, Wednesday morning finds you in the hospital after attempting to soup up your electric razor and shaving off half of your face.

AQUARIUS / OTTER:

The stars say... um... hang on... This is weird. Apparently, you don't have a horroscope. I can't imagine why you wouldn't have one unless... let me check your pulse here... uh-oh.

PISCES / COUGAR:

By Thursday noon, you'll have finally passed that video game level you've been stuck on after realizing that you don't NEED to find a bi-wired minkle-fringe. Do not eat those eggs you bought yesterday, as they are the only things in the world that love you.