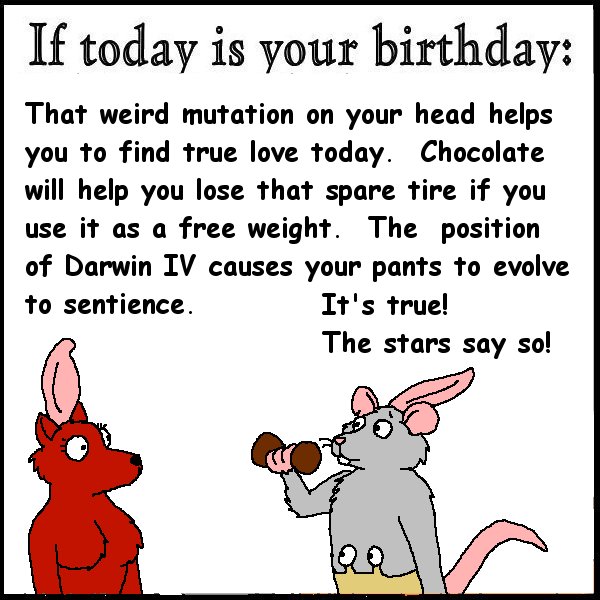 More Horrorscapes | Previous Horrorscape | Next Horrorscape | Latest Month

Horrorscapes are for entertainment purposes only. Seriously. I mean it. What, you think this stuff is actually gonna happen? If you do, please remain calm and do what the nice men in the white coats tell you.

Horrorscapes is brought to you by the following:

HORRORSCAPES
AIRES / HAWK:

Culture shock results when your European vacation is cut short by a large chunk of your torso falling off. If you must go swimming with the sharks, have a friend count your limbs afterward. Tonight: look into prosthetics.

TAURUS / BEAVER:

Nursery rhymes come to life for you today, as the magical result of ingesting delerium-causing toxins. Two things you should be aware of: Your horse loves you and your knees are unusually knobbly.

GEMINI / DEER:

You think yourself an incredibly popular and successful musician later this month until you realize that using the same laundramat as a big-name star does not qualify as a duet. Tonight: Use foot cream.

CANCER / FLICKER:

You have nothing to fear but fear itself. And spiders. And heights. Fear, spiders and heights. And sharp knives. That's it. ...Oh, and toxic waste. Fear, spiders, heights, sharp knives and toxic waste. And rabid turkey. On second thought, hide.

LEO / STURGEON:

You'll be relieved to know that you're not pregnant with a two-headed baby. wait... hold on a minute... Is that Tethys or Telesto in retrograde. It is Telesto? Never mind. Tonight: try not to grate your fingers off.

VIRGO / BEAR:

The glutton is in the house of pancakes, meaning that now is a good time to beat trolls over the head. In fact, it's always a good time to beat trolls over the head. A list of trolls is available on the forum.

LIBRA / RAVEN:

Things get a little bit out of hand when your time-traveling aunt drops by for a visit and brings her pet velociraptor. Invest in stain remover of all varieties. Tonight: sleep with your eyes open.

SCORPIO / SNAKE:

Pluto is making rude noises at Mars, meaning that a giant windfall is in your future. Your job fixing delapidated windmills could take an unexpected turn. Because Charon is in retrograde, it is unlikely that EVERY bone in your body will be broken.

SAGITARIUS / ELK:

The position of Gobotron indicates that three plus four equals twelve. This fact will work against you when it's time to pay bills. Unfortunately, this variation of mathematics does not last until payday. Tonight: practice having ulcers.

CAPRICORN / GOOSE:

WOOF!

AQUARIUS / OTTER:

Saying "moo" and eating grass does not make you a cow. ...normally. The conjunction of Io with Phase changes that. Find a reputable dairy and a housesitter for the next six months.

PISCES / COUGAR:

Due to budget constraints, last month's horroscope has been recycled. Your compassion leads you to explain to your Aquarius friend that nobody is trying to curse him and his horroscope is a scam. Consequently, you get cursed too. Now cough up the dollar.