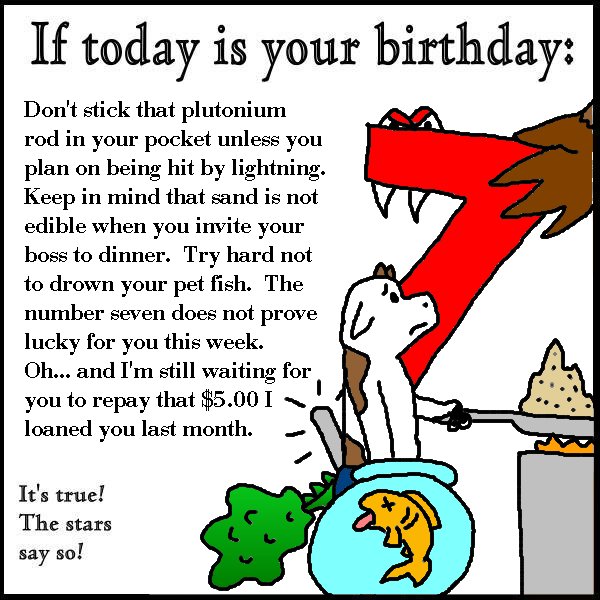 More Horrorscapes | Previous Horrorscape | Next Horrorscape | Latest Month

Horrorscapes are for entertainment purposes only. Seriously. I mean it. What, you think this stuff is actually gonna happen? If you do, please remain calm and do what the nice men in the white coats tell you.

Horrorscapes is brought to you by the following:

HORRORSCAPES
AIRES / HAWK:

Etiquette may be a problem when you meet yourself in a time machine accident. Now would be a good time to change those bad habits. Your lucky spacecraft is Apollo 13.

TAURUS / BEAVER:

You still have a role to play in the debate between the Beatles and Elvis. Walking backwards for Christmas is all the rage. Be careful of short piers.

GEMINI / DEER:

It's a beautiful day outside, so go out and play instead of spending all day indoors. Television kills the art of... thing. You know.

CANCER / FLICKER:

An accident in the workplace will be traced to you loading vinyl 45s into the office computer. Saving for a rainy day is pointless in Seattle. Serutan spelled backwards is natures.

LEO / STURGEON:

Confucious say, 'Chinese New Year deliver bad fortune.' Bad fortune! Bad!

VIRGO / BEAR:

Your proposal to a sexy African hottie leaves you looking up the phrase "MBAYA! MBAYA SANA!" Your discovery of the lost gospel of Douglas Adams turns the mathematical world on its ear when it proves that six times nine does in fact equal fourty-two.

LIBRA / RAVEN:

Robots from outer space are trying to kill you. Be extremely careful with your superpowers, especially if they don't belong to you. Avoid eating soylent green unless you happen to be a large feline or a canamit.

SCORPIO / SNAKE:

Good news! You're not automatically condemned to Hell! Questions of race become an issue when you start dating a toon who is much more heavily inked than you are. Tonight: Get that genie back in the lamp before the police arrive.

SAGITARIUS / ELK:

A serious malfunction in your computer leaves you pondering the medical and philosophical ramifications of the number six. You may be surprised to find that despite detailed memories, it's actually you who's the clone. Avoid romantic encounters with Capricorns, Libras and lepers.

CAPRICORN / GOOSE:

If there was ever a time to go skydiving without a parachute, it's now. Swimming in the Amazon with giant otters proves enlightening. Swimming in the Amazon with giant piranha does not. Not like you'd like, anyway.

AQUARIUS / OTTER:

Jupiter holds many secrets concerning your happiness. Unfortunately, Jupiter is still angry at the universe about the whole Shumacher-Levy Comet thing and isn't talking to anyone.

PISCES / COUGAR:

Neptune and Venus told me what you did. You shouldn't even be reading this horroscope. Now go home and think about what you've done until next month.