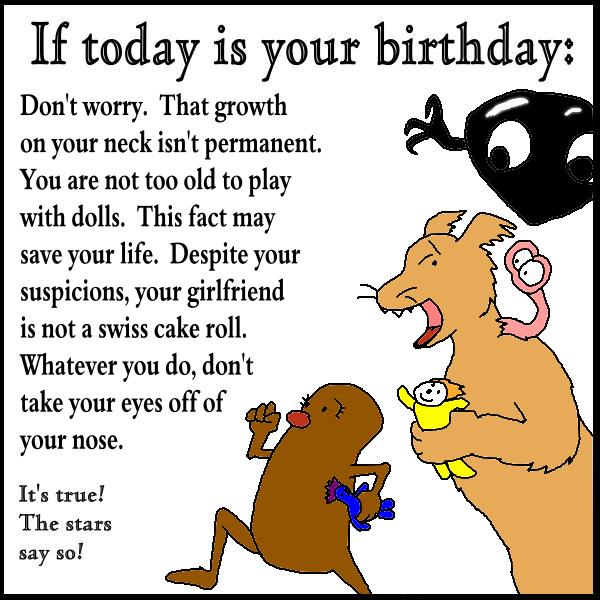 More Horrorscapes | Previous Horrorscape | Next Horrorscape | Latest Month

Horrorscapes are for entertainment purposes only. Seriously. I mean it. What, you think this stuff is actually gonna happen? If you do, please remain calm and do what the nice men in the white coats tell you.

Horrorscapes is brought to you by the following:

HORRORSCAPES
AIRES / HAWK:

That dinosaur living in your basement may not make such a great pet after all. But not to fear, prosthetics have come a long way. Take something entertaining next time you go to the bathroom. You'll be there a while.

TAURUS / BEAVER:

Your horse is secretly in love with you. Try to let her down easily. Whatever you do, don't drink anything and be sure you have a sufficient supply of dung.

GEMINI / DEER:

You might want to switch your alarm clock to avoid serious injury. Take a break during class when you get the snot beaten out of you.

CANCER / FLICKER:

Those long months locked away inside your own mind finally come to an end, thanks to some friendly blobs of protoplasm. Try not to be seduced by ultimate power.

LEO / STURGEON:

You need to understand that those horrific creatures are invisible to the librarian. Please make an effort to put your clothes back on as well.

VIRGO / BEAR:

Your life is still in jeopardy. In this instance, your ability to sing isn't going to save you from the maniac out in the woods. Tonight: relax and unwind

LIBRA / RAVEN:

Your magic 8-ball is lying to you. But I am telling the truth. Trust me! Be careful not to drop your pet into your coffee. Oh... your tea leaves hate you too.

SCORPIO / SNAKE:

The good news is that you aren't suffering from bare knees or long underwear. The bad news is that your life depends on removing the seat of your pants. If you turn into an inanimate object, take a friend along.

SAGITARIUS / ELK:

Stepping on a living crystal seems unimportant when a creature from another dimension asks you for help escaping from jihadist fish. Don't forget that your friend still has the yo-yo.

CAPRICORN / GOOSE:

Talking to rocks does not mean you're crazy. Now put down the weapon. Your co-worker is not a construct generated by an evil computer, so let him out of the box.

AQUARIUS / OTTER:

Get out! Get out of there, NOW! MOVE MOVE MOVE! For pity's sake, GET OUT OF THE BUILDING!

PISCES / COUGAR:

There is nothing lethal about rock, paper scisors. Be a little nicer to your local cheese. The good news is that you're not pregnant. ...At least, not in the traditional way.