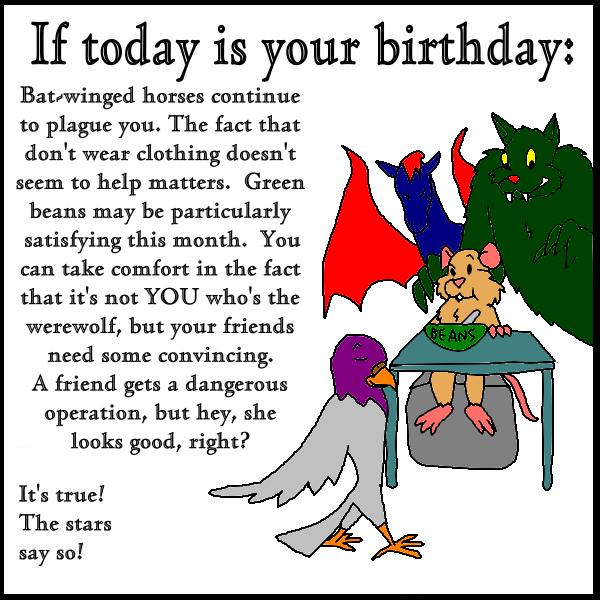 More Horrorscapes | Previous Horrorscape | Next Horrorscape | Latest Month

Horrorscapes are for entertainment purposes only. Seriously. I mean it. What, you think this stuff is actually gonna happen? If you do, please remain calm and do what the nice men in the white coats tell you.

Horrorscapes is brought to you by the following:

HORRORSCAPES
AIRES / HAWK:

An aluminum-foil hat is advisable if you wish to stave off those hypnotic rays that the aliens are transmitting. Digestive problems arise after you attempt to get taller by eating yeast. Tonight: it's okay to P.O. Egyptians gods.

TAURUS / BEAVER:

.sdrawkcab daer ot nrael ot deen uoy taht snaem edargorter ni si lehcxI taht tcaf ehT

GEMINI / DEER:

Brewing an excellent beer makes you lots of friends. Doing it in your truck lands you in jail. Wear meat around your neck while feeding the jackals. Tonight: garbage is your only friend.

CANCER / FLICKER:

A sixty foot fall does nothing to enhance your relationship, especially when it's yours. Keep in mind that you are not a squirrel. Oh... wait... Is that Ganymede in retrograde? I'm sorry, you are a squirrel after all. Never mind.

LEO / STURGEON:

It is vitally important that you name every life form that you come in contact with after cheese. Now is not a good time to vaccuum the cat. Tonight: Send us money.

VIRGO / BEAR:

Keep a blanket ready to throw over your head. If you can't see the monster, it can't see you. A small fire-related incident has you searching for alternatives to eyebrows.

LIBRA / RAVEN:

You finally discover the meaning of the number six that came up on your screen when the alien virus crashed your computer. Now is a good time to plant twinkies.

SCORPIO / SNAKE:

Narf.

SAGITARIUS / ELK:

There's a reason you didn't get a seat in the orchestra. Revving you car's engine does not count as playing an instrument. You believe yyour best friend was abducted by aliens, but it turns out they're just plush animals.

CAPRICORN / GOOSE:

Try to help your Taurus friend learn to read backwards. You need to know that mucus is not a fashion statement. Tonight: rehearse your emergency surgery procedures.

AQUARIUS / OTTER:

The conjunction of Veruna with Oberon indicates that you will soon eat a banana. Oh, sorry, that's Ariel. You will soon BECOME a banana. Tonight: Stay away from ice cream and chocolate sauce.

PISCES / COUGAR:

Stepping on a bug causes severe problems when his ten thousand close relatives come by seeking revenge. Now is not a good time to pass go and collect 200 dollars. Tonight: Explain to your scorpio friend the deep, hidden meaning of "narf".