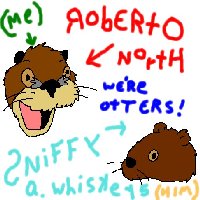 Roberto: H1! I'm RobetO anb +his guy nExt to me is SNiffy. W3're 2wo oTters who work her at OtterTUnes and found a camra roling 1ne daY so we decideb to make our 0wn 5how. We hop you Like it!

Sniffy: Eee oh eee wa ha oh na wa.

Roberto: Oh, dat's a gOOd poin+, 2niffy. Yeah. we"re like, n0t reponsible for tha koNtent of OtheR v1deos yoU might wotch on youtub. Okay. Thankz.

Sniffy: Ahha wa.