Otter Island
The Radio Show
Presented by The Riverside Players | Based on Otter Island comics, art, and stories.
Now playing: Drifting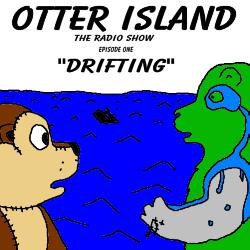 Summary: Amanda the doll has a disturbing dream about a little girl adrift on the ocean.
Is it just a dream, or are her telepathic powers bringing her the shadows of something more?

Please click on the above image to hear the radio program.
You can also hear the program on the OtterTunes station.
Just tune your internet radio to rovr.primcast.com:7120.
Credits for this episode:
Narrator: Oren Otter

Oren Otter: Oren, Amanda, Island, Kwunko,
Phyllis Vary: Amy, Samantha,
Ashenfox: Blalok,
Susan Folmer: Celia, Sayna
Martin Billany: Kahuna, Nero,
Xan Folmer: Poof-poof, William
Kaninus Fox: Sam
Eala Dubh: Tak

Written by: Oren Otter
Directed By: Oren Otter
Additional audio engineering: Eala Dubh
Musical splicing: Eala Dubh
Music: Gratefully borrowed from Peter Howell and Paddy Kingsland
Original air date: Jan 30 (Otter Day) 2006


To see the original Otter Island website, please go to ottercomics.us/otterisland



Sponsors / aspiring stars / fans, you can contact the director at the address below:
orenotter2@yahoo.com
Otter Island Radio Show is brought to you by: