Join Bob and Ollie and the citizens of Puzelburg in figuring out mysteries, logic puzzles and brain teasers. Put all your brain cells together to solve these puzzles, but be careful, the answer may be more obvious than you think.

Brain Cramps is in reruns to celebrate Cryptids, its sister feature. Read the Brain Cramps you missed, and catch more puzzles in Cryptids.

Have a puzzle you'd like to see in Brain Cramps? Send an e-mail with the question and the answer; if it's good, I'll use it!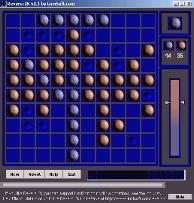 A gift to all you geniuses-
Reversi 2k from Lovisoft.
Disclaimer: Some facts, such as geographical data, may be obsolete. All data is guaranteed to have been accurate to the best of the creator's knowledge at the time each puzzle was created.